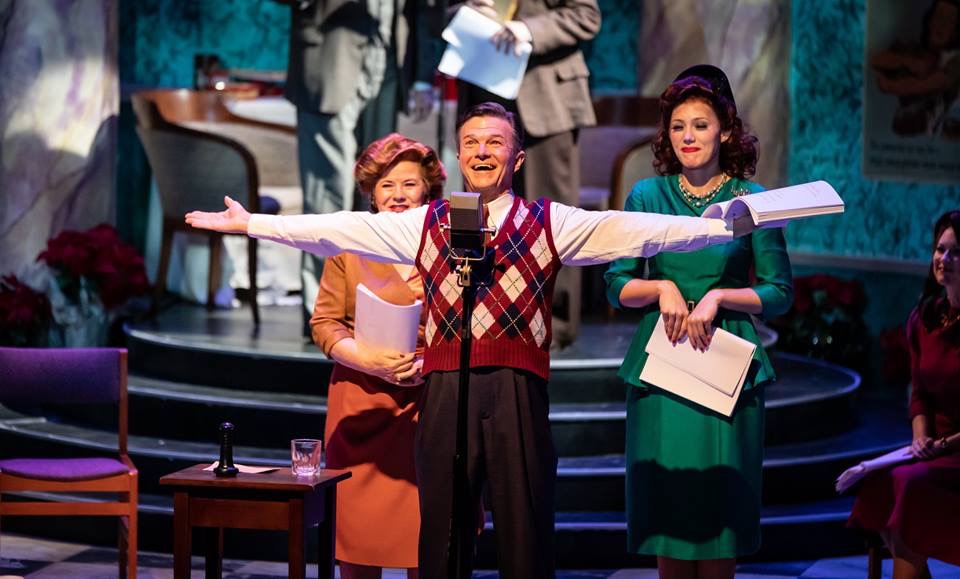 IT'S A WONDERFUL LIFE:
A LIVE RADIO PLAY
"Jimmy Stewart is a hard act to follow, no doubt, but Sandel makes George Bailey his own. As a man with big dreams and the worst luck, Sandel is earnest and kind, and his more dramatic scenes – such as his impassioned speech to the board after his father dies – are the production's best."
Houston Press
Main Street has assembled a mesmerizing Who's Who of a cast. They strut and fret and chew the scenery most deliciously…Sandel is rueful indecision as Heminges, former actor and the Globe's business manager."
Houston Press
"Joel Sandel as John Heminges is wonderful, and this role really showed his range not only as a comedic actor, but also his ability to take on the tragic moment."
Houstonia Magazine
"Special mention must go to Joel Sandel, playing Berenger's co-worker, Dudard. It's a special delight to see Sandel, known for his talent in period pieces and more traditional roles, let his hair down in this, his Catastrophic debut…it should be mandatory that Sandel gets to show off his rhino impression every once in a while as it's a hoot."
Houston Press
"Sandel fuels "Wolf Hall" like bellows to flame. He radiates energy, drawing the eye to his slinking posture and crooked jaw, yet never dominates the stage. Sandel is good in "Wolf Hall" the way Peter Dinklage was good in "Game of Thrones," playing the dislikable side character with such charisma that his performance just might define the entire enterprise."
Houston Chronicle
"Sandel's portrayal of RFK gave this one-man show a sense of gravitas and charm fit for America's best-known family. Rather than caricature of a political figure, Sandel turned the play into an examination of grief, self-doubt and the clash between idealism and pragmatism."
Houston Chronicle 'Best of the year 2016'
"The show is a one-man tour de force that stars Joel Sandel as Robert F. Kennedy, an actor who certainly is up for the challenge. He has the spirited passion of JFK's little brother, and that is what makes the play come to life so vibrantly. Sandel carries the audience with a charm and grace that he shares with the icon he is portraying. His RFK feels real and palpable, as if he was indeed resurrected for a couple of hours. It is one of the smartest performances you will see this year in Houston theatre."
Broadway World
"Sandel captures vividly the passion and pain of a budding American icon who came from a family of über-icons who know tragedy all too well. Sandel captures Kennedy's charisma, intimacy and heart in this demanding one-man show that is equal parts history lesson and lament for futures never to be."
Houston Chronicle
"Mother Superior (a radiantly chipper Joel Sandel) arrives at St. Veronica's convent by bicycle with habit flapping. It's a star turn, literally, if not laterally. Even better yet it is another star turn for Sandel. Soon we're inside a flashback to Mother's newspaper reporter days, and in she struts like a motormouth Hildy in His Girl Friday. In green dress, high heels, Titian curls and those glamorous pins – eat worms, Betty Grable – she's like Susan Hayworth, if that estimable actress had been dragged through a knothole backward."
Houston Press
"Particularly good: …Joel Sandel's uncertain critic finding his way through the dizzying maze of new thoughts -- you can see the thoughts take hold of him."
Houston Press
"Joel Sandel …stands out as the simultaneously weary and tireless Belinsky."
Arts and Culture Magazine
"MST mainstay Joel Sandel proves an ideal hero as Ridgeon. He brings a fine intensity of focus and crisp definition to every line, conveying the conflicting emotions of a bright, troubled mind."
Houston Chronicle
"Joel Sandel has never been better than he is in the bravura, showcase role of egocentric matinee idol Garry Essendine, struggling to gain control of his disordered personal life as he confronts the looming shadows of middle age. Sandel commands the stage as the self-dramatizing star who can't help being "on" at all times. He delivers his lines with zest and definition. However the character's mercurial moods change 'petulant and demanding to self-pitying and vulnerable' Sandel exudes charm and humor."
Houston Chronicle
"'I'm always acting, watching myself go by,' emotes protagonist Garry Essendine, played by the incomparable Joel Sandel in this semiautographical play by Noël Coward, to anyone who crosses his path. Everything is pitch-perfect, led by the outstanding Sandel, who lounges, pouts and poses while he laps up his fawning press and basks gloriously in his own klieg light."
Houston Press
"The cast˜as tight as they come˜is headed up by Joel Sandel, looking smashing at every turn in his tuxedo or new dressing jacket. (Why ever did those things go out of fashion?) Sandel inhabits the troubled star with ample charisma and self doubt, and shows a distinct flair for physical comedy."
ArtsHouston
"Joel Sandel is indispensable as Golo/Michael, exerting his skills as a song-and-dance man with a sense of the absurd (essential here)."
Houston Chronicle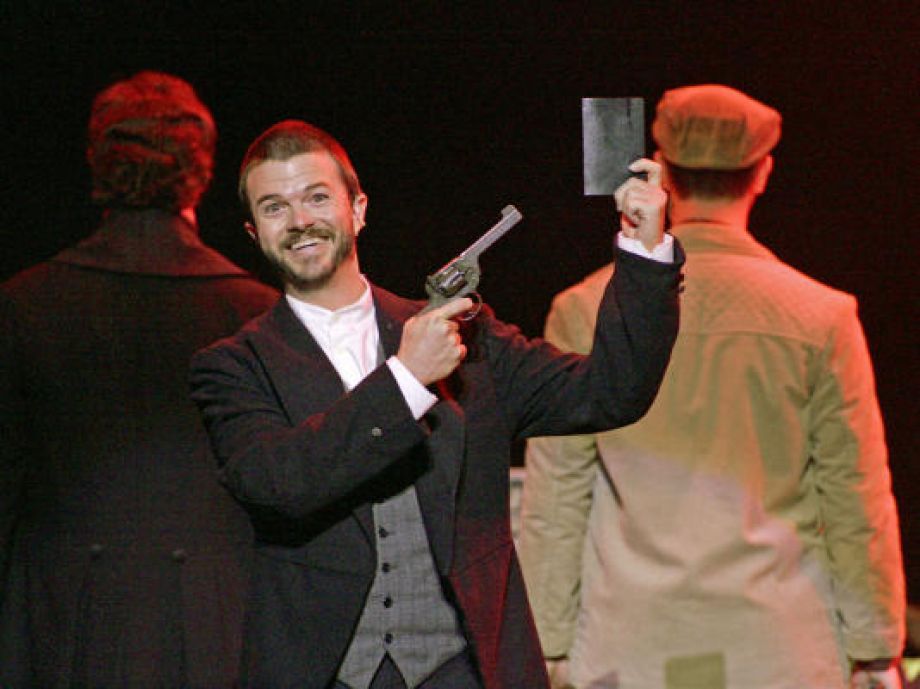 "Joel Sandel is gleefully demented as Charles Guiteau (Garfield's assassin), alternately chanting a pious hymn and breaking into a scarily joyous cakewalk as he mounts the stairs to the gallows in a stunning turn."
Houston Chronicle
"From Jack, to Jerry, to Joel - by alliterative coincidence, that's a brief history of Chuck Baxter, the slightly compromised yet essentially nice hero of "The Apartment" and its musical version "Promises, Promises." Jack Lemmon was Oscar-nominated originating the role in Billy Wilder's film "The Apartment," Oscar winner as best picture of 1960. Jerry Orbach scored one of his greatest stage triumphs and won a Tony starring in 1968's hit Broadway musical adaptation, "Promises, Promises." Now, Main Street Theater favorite Joel Sandel tackles the pivotal role in MST's concert-style revival of the musical, imbuing it with regular-guy affability, wry humor and rumpled pathos in the tradition of his more famous predecessors."
Houston Chronicle
"Enter Joel Sandel, a Main Street Theater favorite, who plays the put-upon C.C. Baxter with an endearingly crumpled half-smile that ought to make any audience fall head over heels. It's Sandel who turns this otherwise tired story into a surprisingly winning night of theater. His Baxter is the quintessential straight man."
Houston Press
"Joel Sandel gives the production a strong emotional anchor with his troubled, serious-minded Gabriel. His intense thougthfulness suits the role."
Houston Chronicle
"As Gabriel...Sandel wastes little time convincing us that he's exactly what Joyce intended all along. There's a lovely lost quality to Sandel's Gabriel. He's the sort of fellow who seems full of confidence, but the veneer of that confidence is slowly worn away over the course of the evening. By the last scene, when Gabriel discovers that his beautiful wife was once in love with another man, he's as vulnerable as a man can be. The tragic banality of Gabriel's discovery, and the care with which that discovery is made by Sandel, are a large part of what makes this production so successful."
Houston Press
"Joel Sandel is wonderful as the egotistical George, playing him with all the obnoxious pomp, pout and petulance he can muster."
The Bulletin Online
AN EXPERIMENT WITH AN AIRPUMP
"Sandel brings to this understated role a full richness and subtle intensity."
The Bulletin Online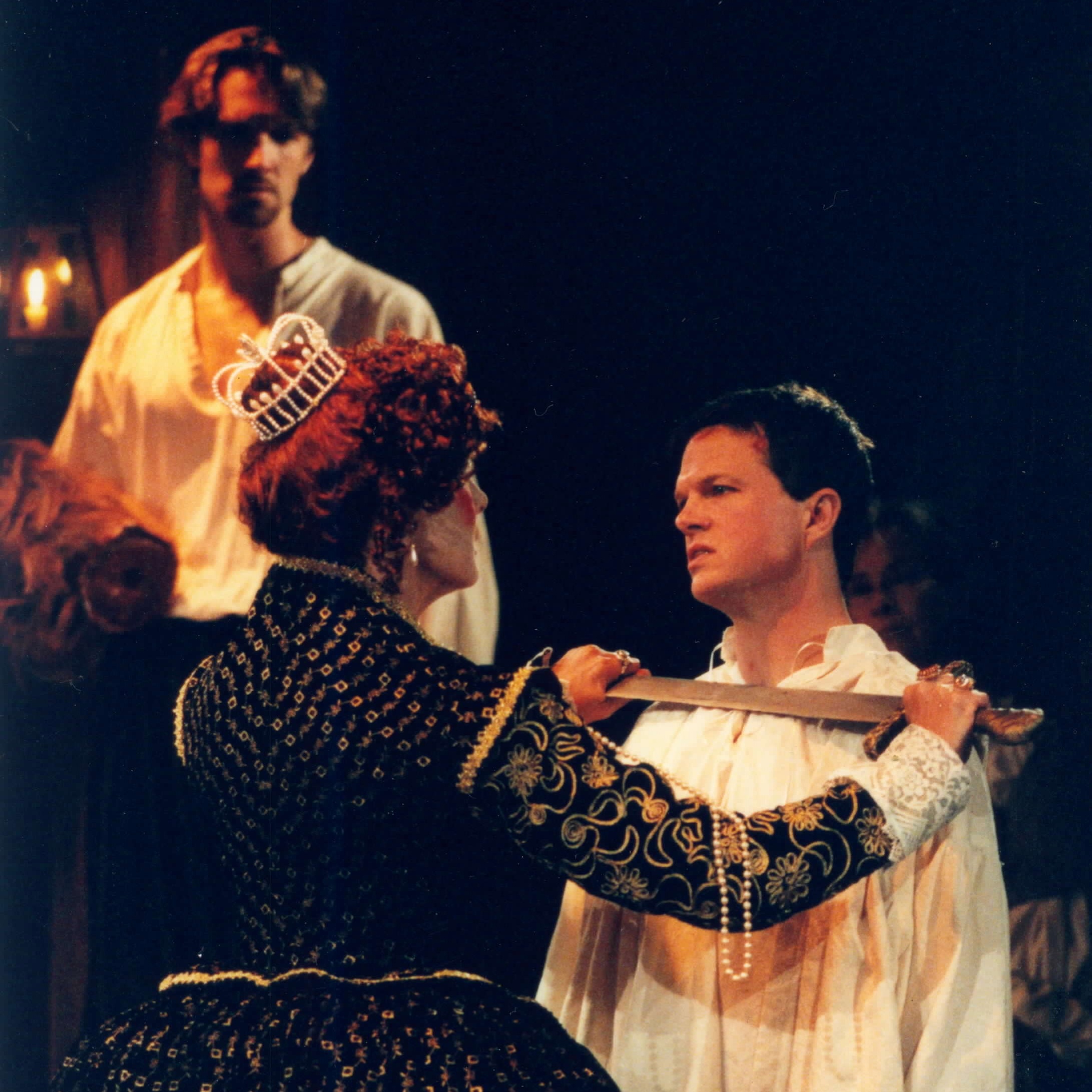 "Joel Sandel was electrifying as Ned Lowenscroft, an actor condemned to death through his own desperate love."
Backstage/West
"Joel Sandel grabs the main chance in his showy role as Ned, vividly alive in his awakening to impending doom. Dissolute and weary, brave and terrified, it's an emotionally splashy turn worthy of all its Shakespearian overtones."
Houston Chronicle
"....it gives Sally Edmundson (as Queen Elizabeth I) and Joel Sandel (playing Ned Lowenscroft, Shakespeare's leading exponent of his mature women characters) the sublime chance to shine gloriously."
Houston Voice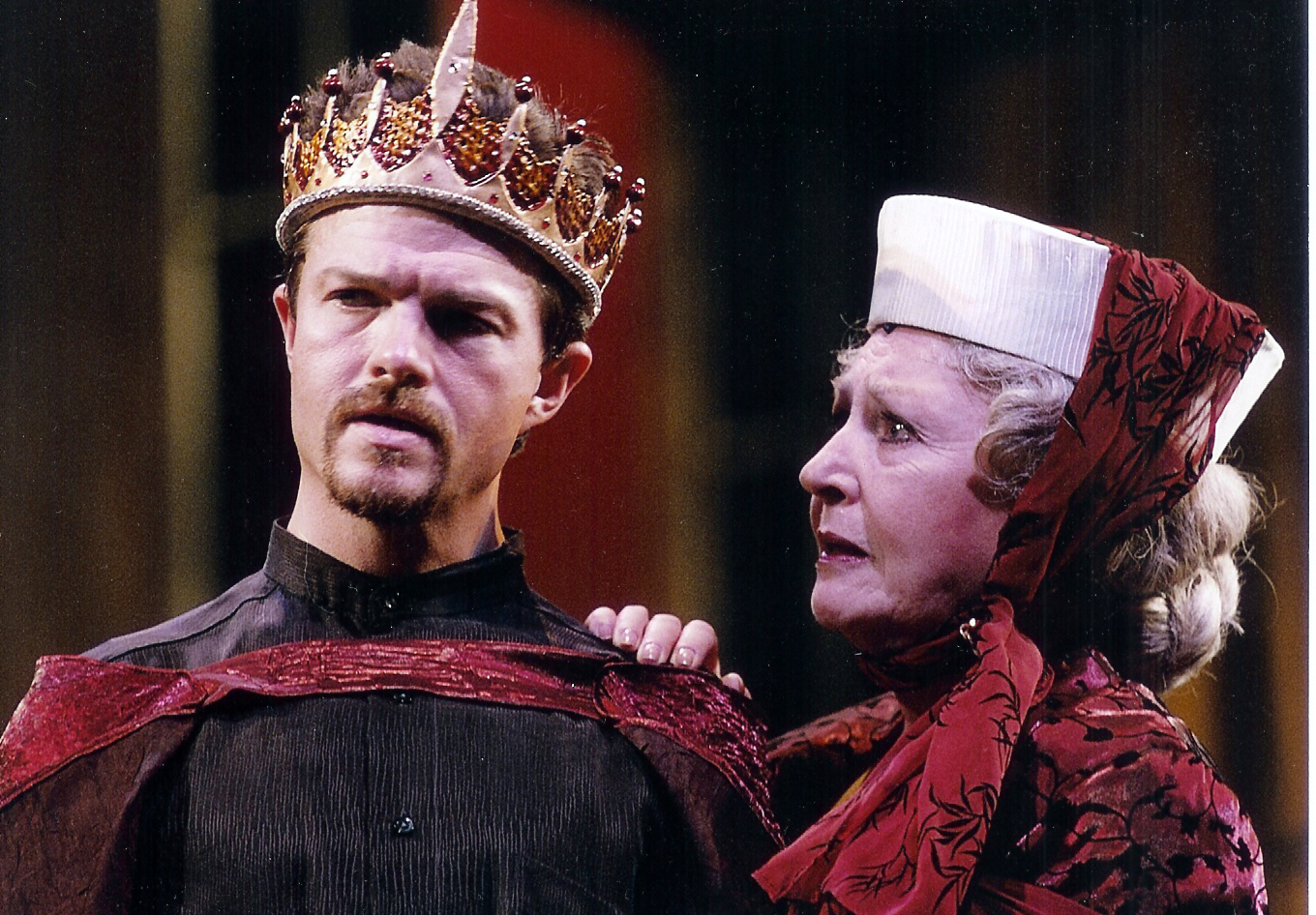 "As King John, Joel Sandel captures the vacillating cowardliness of the heartless ruler. Sandel's thin, fine-boned features work like a menacing blade over these scenes. John's cruelty creeps in through the back door of consciousness, stealing upon us and mutating into horrific moments of onstage suspense."
Houston Press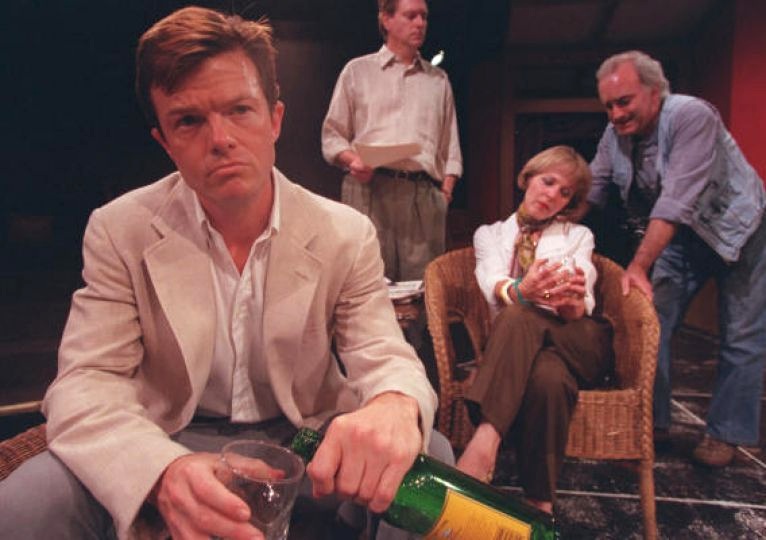 "Joel Sandel, tanned and trim, plays Dick Wagner with an attractive, cynical edge, right out of a Warner Bros. film noir."
Houston Voice (Night and Day)
"Joel Sandel brings a wintry authority and gravity to Ruskin, convincingly enamored of his own pronouncements, pompous and overbearing in his personal relationships."
Houston Chronicle
DECLINE AND FALL/
COLE PORTER
"Joel Sandel...surpasses past performances. His fresh and funny 'I'm a Gigolo' transforms him from bookworm to love god. In 'Thank You So Much Mrs. Lowsborough-Goodby,' he offers the precise dissection of a social fiasco. He can even sing straight, and beautifully, earnestly espousing Porter's credo in 'Experiment'."
Houston Chronicle
"Joel Sandel makes Hapgood likeably clean-cut, a natural leader, but with a twist of incipient madness. His vocals are sturdy and potent, especially as he urges Fay to rock the boat with 'Everybody Says Don't'."
Houston Chronicle
"Joel Sandel was to-die-for as Angela, the demented diva who schemes to kill her hubbie so she can run off to New York with her gigolo boyfriend in Charles Busch's campy spoof Die! Mommy! Die!. Hyperventilating when piqued, cooing when aroused, and petulant when pressed, Sandel infused the aging chanteuse with the pluck of a Girl Scout and the high-handedness of a mommie dearest. And she bared lots of leg, too. Outsized yet sincere, she played the character 'straight' to the hilt."
Outsmart Magazine
"Debonair leading man Joel Sandel blossoms into a grand, albeit slightly overripe lady as Angela.....just straight enough to be believable, yet with a sly enjoyment of the masquerade the character's phony hauteur. Sandel seems to have studied movie divas of the period, for he has the postures, poses and melodramatic pauses down. Indeed, this is a great complement, he is often reminiscent of Susan Hayward in 'Where Love Has Gone.'"
Houston Chronicle
"Joel Sandel is the model of the dapper playboy as Jimmy, confident in song, devil-may-care even in bewilderment."
Houston Chronicle
"Sandel is delightful as the prim Eddie, hilarious in his glee at learning choice obscenities from Mickey, later catching the pained decency of Eddie's realization that life has handed him advantages denied to his 'blood brother'."
Houston Chronicle
Special kudos to Blood Brothers' superlative trio of lead players: Deborah Boily, Jonathan McVay and Joel Sandel.
Houston Chronicle (year in review issue)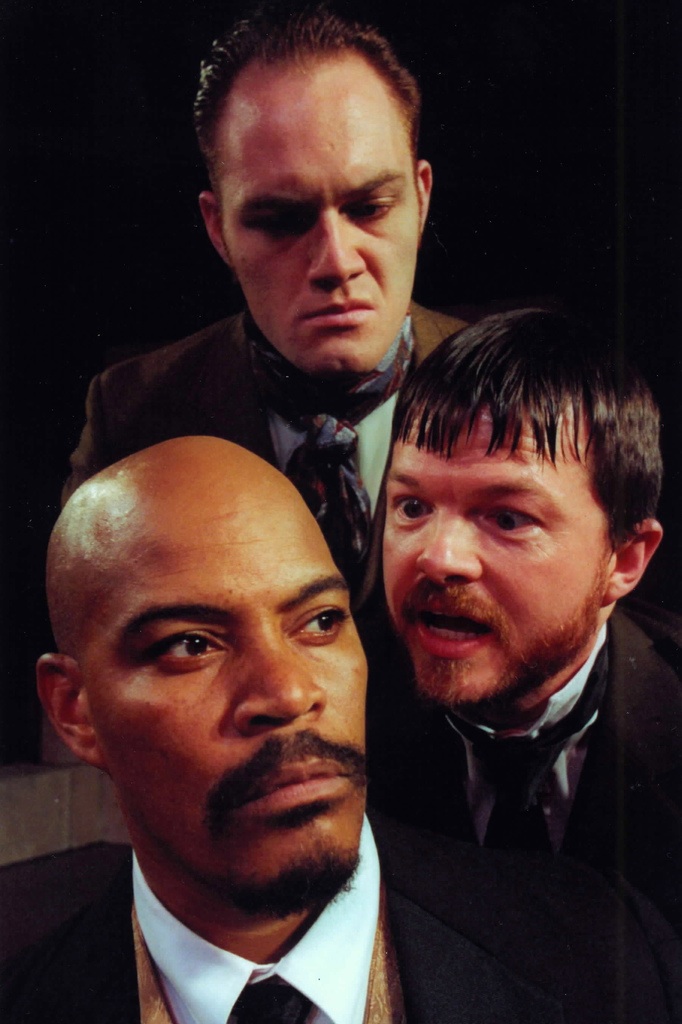 "The center of this play is not Othello but Iago. Sandel seems to be made to play the bad guy. He's risen to the rather formidable challenge of Iago and gives one of his best performances in over a year. His Iago is funny in an icky sort of way, as pinched in the heart as any Grinch. He's a man who was born for bad-hair days with his scalp drenched in goo and his hair combed forward in pointy spikes. He's intelligent and funny and bad to the very marrow of his bones."
Houston Press
"Joel Sandel is a perfect Michael. Not content to play it coy or cloying, Sandel flings Michael's spite at us without apology, without flinching. The reflection in the mirror that he holds up makes us flinch."
Houston Voice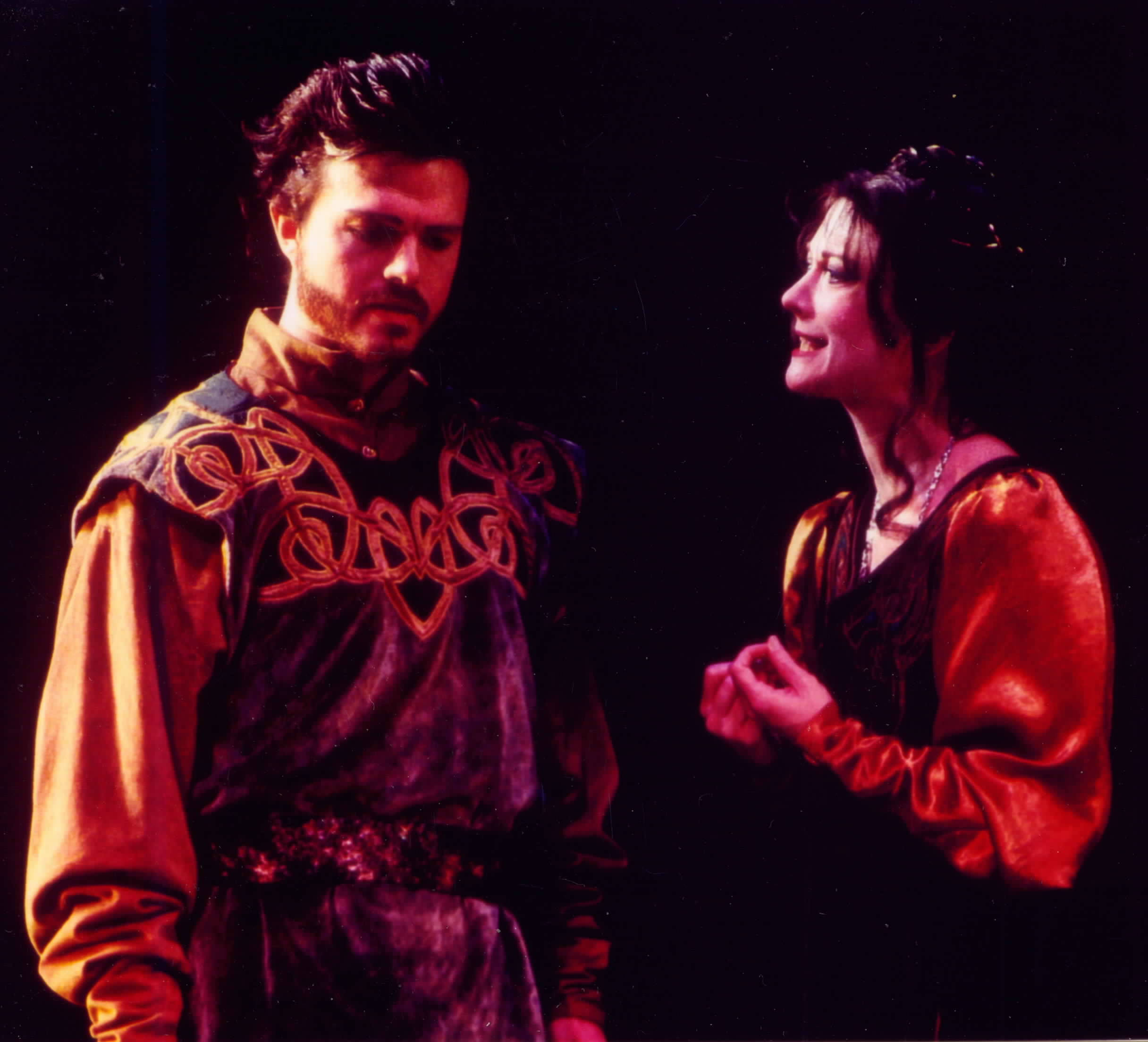 "....Joel Sandel's Duke of Albany shines in several potent bursts of outrage."
Houston Chronicle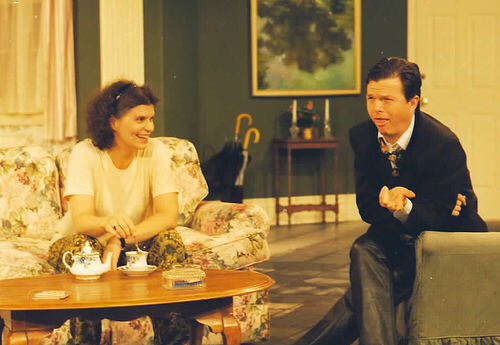 "....it's Sandel who almost steals the show with his suave, charming and often humorous portrayal of Geoffrey....Sandel shows real talent in a memorable role."
Daily Cougar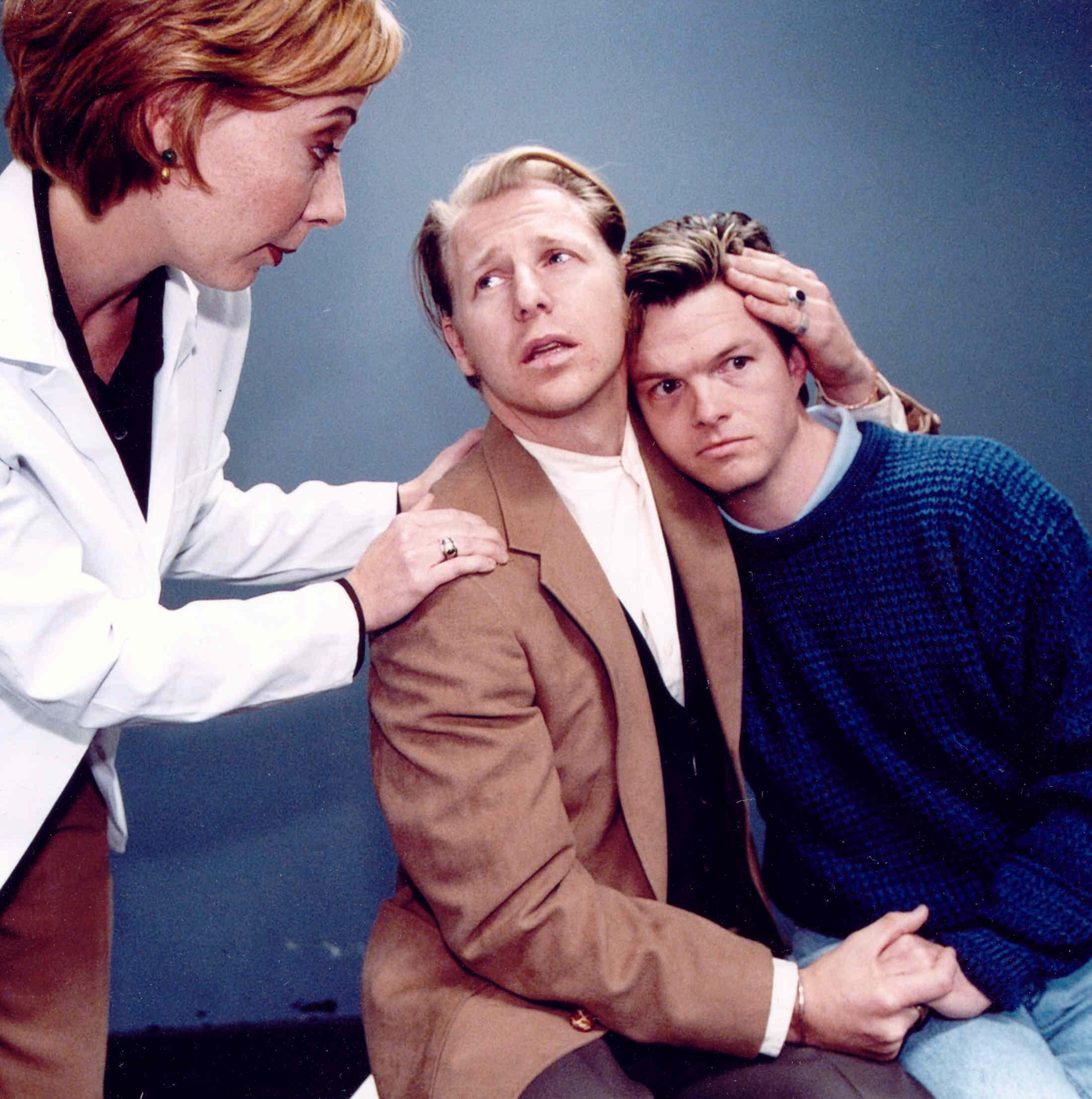 "...Sandel is heartbreaking and funny as Robert."
This Week in Texas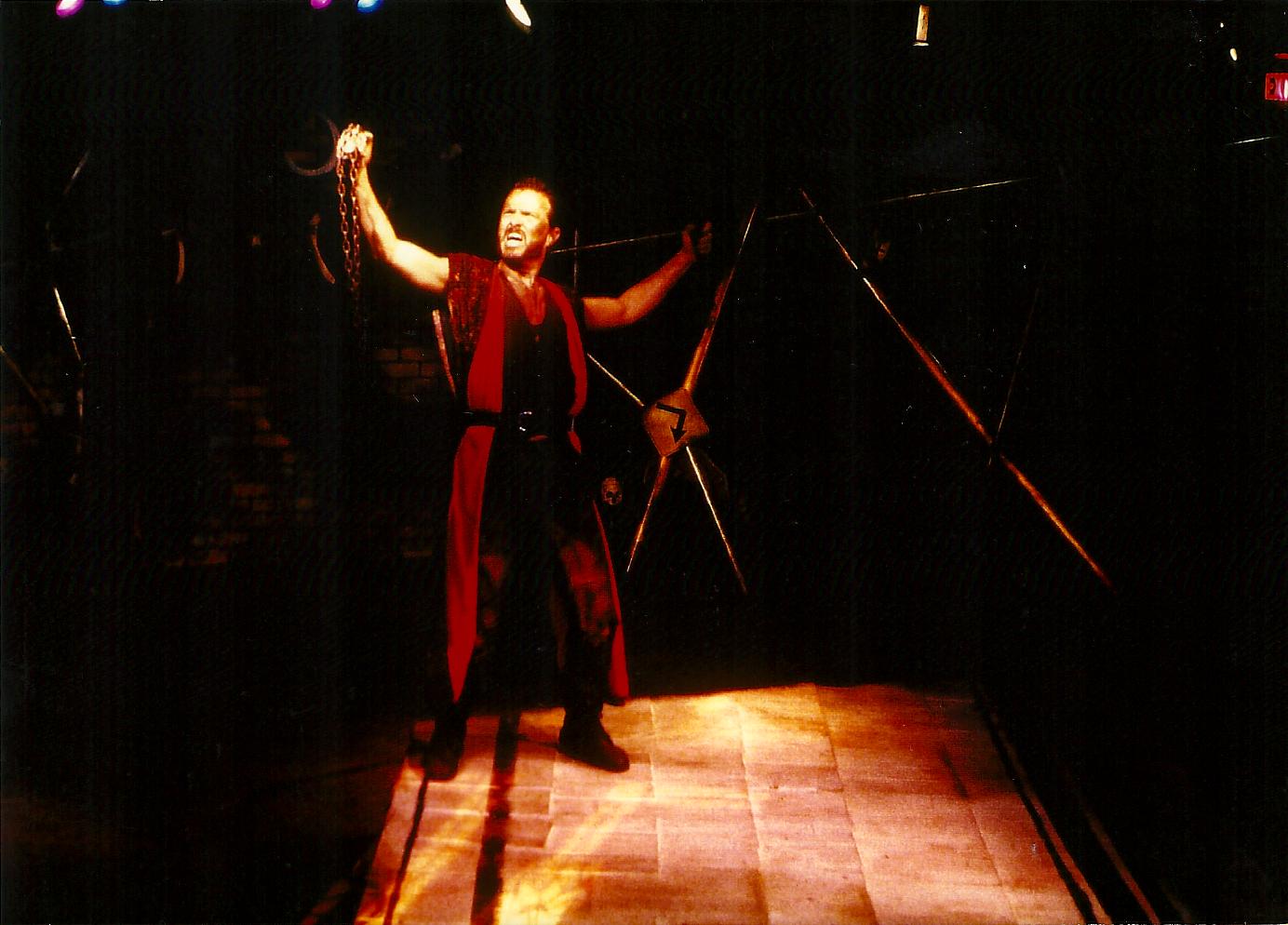 "As for Macbeth (Joel Sandel) and his Lady (Nathalie Cunningham); they are alive and real, they so completely devour their roles. Their passion, their plotting, and even their madness consume emotions that are intense. These two are superb in their roles."
Village News
"Joel Sandel gives, what may be, his best performance to date as Marvin--his singing strong, his acting charged with conviction."

Houston Chronicle
"As the King of Bohemia, Joel Sandel is both sensitive and commanding; his shock on learning that Leontes suspects him of wooing Hermione is a tense turning point."
Houston Press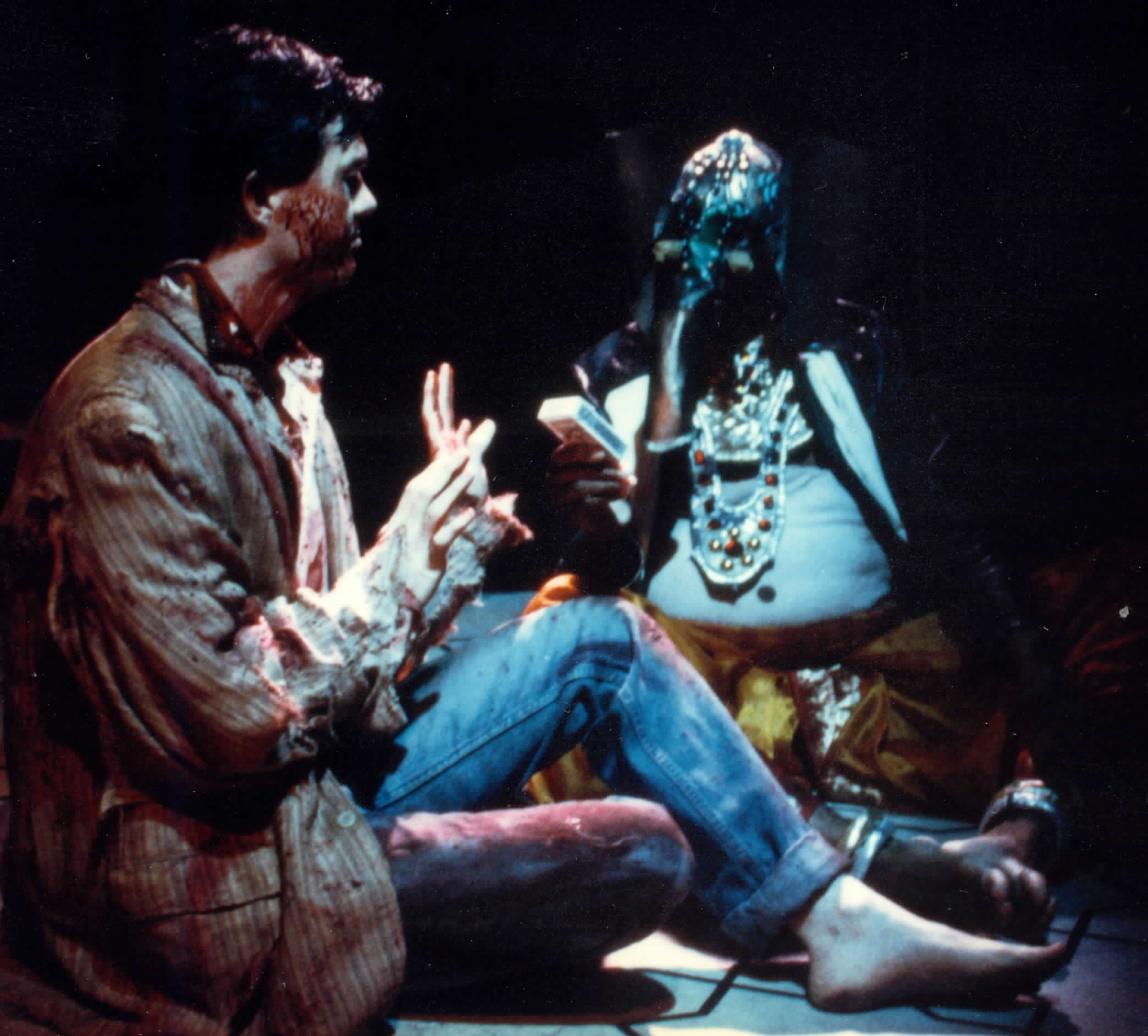 "Joel Sandel shows his vituosity, playing all the other characters the women encounter in memory and reality--from Katherine's sarcastic son to a snippy airline clerk to and AIDS-stricken doctor..."
Houston Chronicle
"Joel Sandel, who played all the other male roles, does an exceptional job, in what could legitimately be described as a showcase for his versatility."
Houston Voice
"Walter, along with a multitude of other characters, is played brilliantly by Joel Sandel."
Daily Cougar
SUNDAY IN THE PARK WITH GEORGE
"Joel Sandel gives an excellent performance as Seurat and George, singing the demanding score with feeling and flexibility. His Seurat is intense and obsessive, not cold but always preoccupied with his creative purpose. As the modern George, he projects confusion and creative despair affectingly."
Houston Chronicle
"Joel Sandel does an exceptional job in his performance. Sandel immerses himself in the role, much in the same fashion that the two Georges enveloped themselves in their creations. He captures the artist's disdain for distraction, the methodical application of meticulous detail and the unintended neglect of those in the artist's life.
Houston Voice
"As both of the Georges, Joel Sandel is passionate, self-doubting, and especially in the songs about the act of artistic creation, quite moving."
Public News
"The starring role of sweetie-pie star Mary Dale is written to be performed by a man (Busch himself originated the part) - and Joel Sandel does an inspired job for MST. He has never been funnier or more subtle than he is gently kidding an entire generation of clichés about femininity and quiet valor."
Houston Chronicle
"Funniest Menace: The Hollywood 'reds' in Charles Busch's caustic, clever 'Red Scare on Sunset'. Main Street Theater mounted a neat Houston premiere, with a show stopping "leading lady" turn by Joel Sandel."
Houston Chronicle, year in review
"As movie queen Mary Dale, Joel Sandel is a delight. Dustin Hoffman and Robin Williams could have taken lessons from Sandel for their cross-dressing roles in Tootsie and Mrs. Doubtfire. You'll absolutely scream for more!"
This Week in Texas
"Sandel carries the role of Mary and the play on his beautiful white shoulders without a trace of a smirk or campiness. Sandel manages to whip this meringue of clichés into stiffness with sheer sincerity. He can make a Loretta Young turn with a flourish, swirling yards of taffeta without catching it on the scenery. His diction is precise, his gestures and head turns are emphatic and clear. He plays a woman with the clarity and emphasis of a Joan Crawford or a Bette Davis. He has theatrical style. When a Red-sympathizing director suggests that Mary might change her image by making a black-and-white picture without makeup, Sandel's flinch of awareness creates howls of laughter."
Houston Press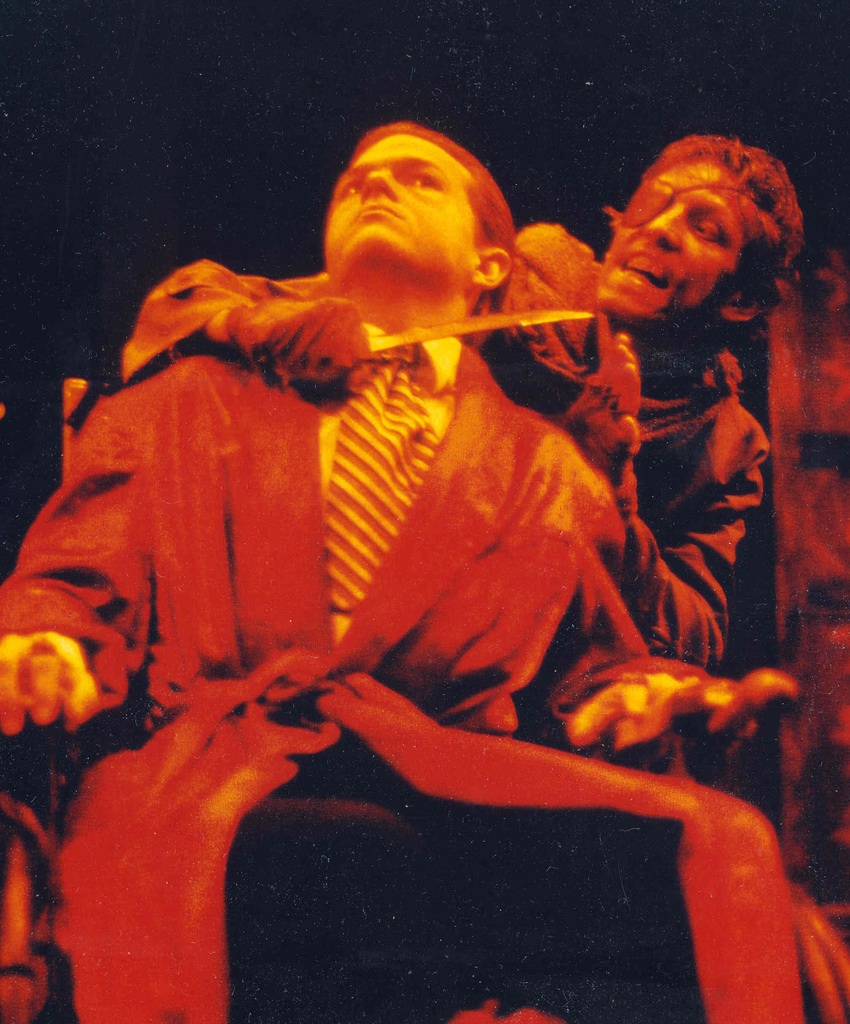 "Joel Sandel is scathingly terrific as the thoroughly corrupt Major Ross, youthful, decrepit and even dead (he makes a stirringly campy light show apparition)."
Houston Press
"...at it's center is Joel Sandel as Chekhov…he has a calm grace and charmingly ironic manner that captures the sense of a doctor/writer, faintly bemused at the predicatments of humanity around him. He has the faintly surprised, elegantly awkward look of a man caught in a truly Chekhovian predicament."
Houston Press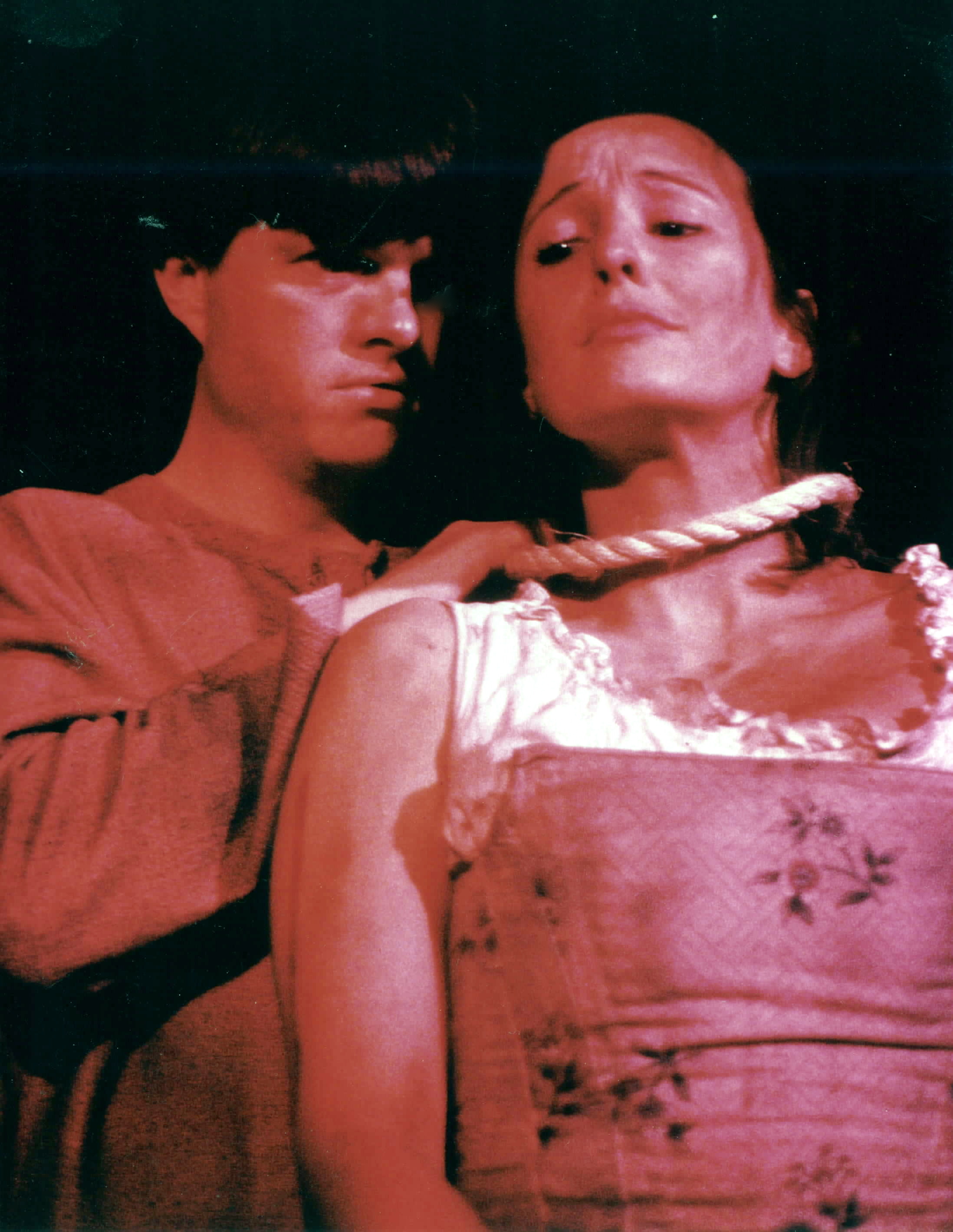 "Joel Sandel performs impressively in his double role. He's horrifyingly nasty as the brutal Major Ross, and endearing as the good-natured Ketch, pained at his forced role as hangman."
Houston Chronicle
"Years of work made Sandel one of Houston's top actors."
The Houston Chronicle Read the Article
THE SECRET TAPES OF JESUS: "Joel Sandel is just great…a pure gem...his performance alone would make the show worth the trouble."
Houston Voice
CLOUD NINE: "Joel Sandel contributes a wry performance as the understandably dissatisfied servant in Act 1 and a vividly impish one as a mischievous toddler in Act 2."
Houston Chronicle